Top five Bollywood movies for teenages
Teen age has been referred to as the age of storm and stress. With teens undergoing a thorough process of hormonal changes, teen age is marked by a spurt in the domains of physical and emotional activities.
The age is known for its vulnerability and emotional instability. On account of the rapid flux on the levels of body and mind, teen agers are more susceptible to the emotions of love and hate. The creative world of B town has wonderfully etched out the world of teenagers in many of its flicks.

1. Jaane Tu Ya Jaane Na


Cutely vivacious Genelia D' Souza was a striking match for the debutante Imran Khan in the film 'Jane tu ya jaane na, which beautifully highlighted the chocolate charm of the teens. The film with its touches of romance and comedy is capable of leaving an indelible impression on the minds and souls of the teens and twens for years to come. Lacking in mushiness it falls into the genre of a cool comedy.

2. Jo Jeeta Wohi Sikander


























Mansoor Khan's film which featured Aamir Khan in the role of an immensely sweet and a lovable school boy blended the rough and tough competitive spirit of teen age with that of its charming vulnerability. Centering on a noted passion of this age- its passion for sports, the film remains as an endearing one for the teen agers, with a neat storyline gearing to the pains, pleasure and complexes of the age.

3. Kuch Kuch Hota Hai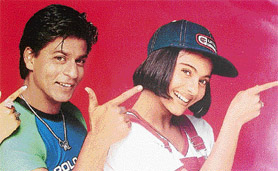 The triangular love story directed by KJ was a box office block buster catering to the ages of various kinds. With SRK, Rani and Kajol contributing to the three sides of the triangle, the film catered in particular to the emotions of the college going types. The multiplicity of songs, unique sceneries and impeccable characterization were the features of this uniquely pleasant love triangle.

4. Bobby























'Bobby' which saw the twin debut of Rishi Kapoor and Dimple Kapadia, also testified to teen age love. Directed by the legendary Raj Kapoor the film highlighted the passion in the context of the perennial conflict between the rich and poor. The film depicting the lead pair in their teens has the touch and feel of Mills and Boons romance.

5. Three Idiots










Three Idiots of Raj Kumar Hirani take on an intellectually realistic approach to the problems of this delicate age, by showcasing their myriad aspirations, pressures, talents and dreams. Despite the robust and realistic portrait of certain grimly negative elements, the film excels itself in its touches of humour and satire. Extraordinary performance of Aamir Khan along with his supporting counterparts makes for an intensely appealing experience.
Through the ages of film making, Bollywood excels itself in offering variety. Each of the film in the mentioned category from Bobby down to Three Idiots is uniquely different from the rest.